Rent a coaster in Dubai
Rent a coaster in Dubai with driver, fuel, full insurance and back up. 30 seater coaster with driver , oil , fuel , Salik and maintenance available any time and all the times. When you are looking for the staff transportation bus or guests transport. If you are looking for bus transport for your tour program, just bother yourself with rent a coaster in Dubai program. You will feel the difference. We offer high class new buses with trained drivers. Airport pick up and drop, hotel transfer or bus for events , you are in our safe hands. You will find Dubai City Tour, Dubai Sight seeing tour and Dubai beach tours. For further info you may visit Dubai City Tours. Wadi Swat Passengers Buses Transport gives you full solution transportation with excellent rates.
The New 2020 Model Coaster
The new 2020 year model Toyota Coaster is very high quality vehicle that spacious, comfortable like a luxury bus and above all very economical. At the same time its design, performance and the technology used is up to the mark. The bus is no more 30 seats now. It will be 22+1 combination with no folding seats to block your way.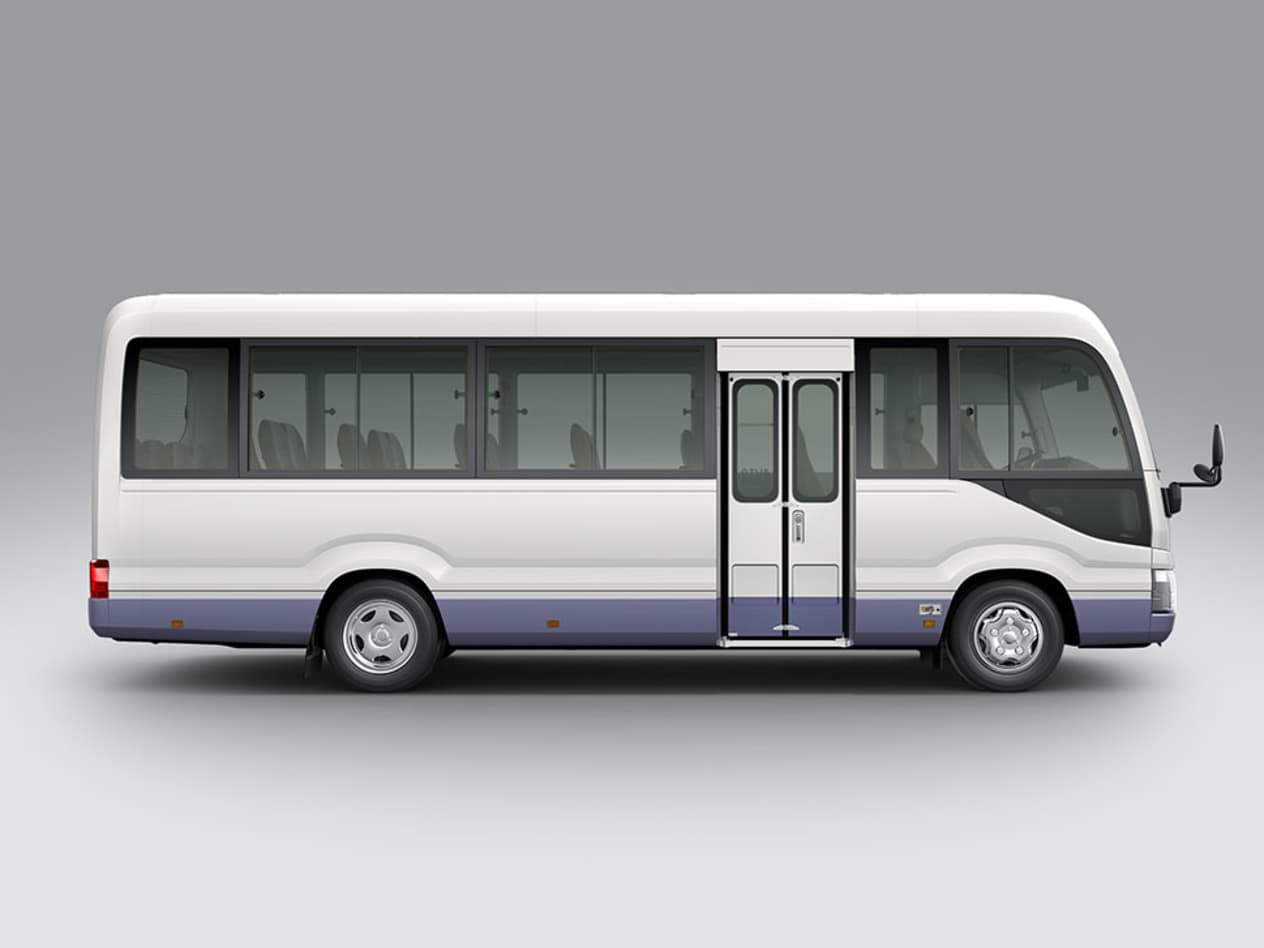 Rent a coaster in Dubai & Sharjah
A 30 seater coaster is no more coming as 30 seater in the UAE. RTA has changed the capacity of the minibus coaster from 30 seater to 22 seater. All the new coaster above 2016 are all coming as 23 seater. There will be no more folding seats in the middle. To rent a Coaster in Dubai is available both in 23 seats and 30 seats. Normally; the rates of buses rental Sharjah and Dubai are the same.
Rent a Coaster Rates
A coaster bus cost AED 800/ Day and AED 450/ Half day.
Weekly rate is AED 4500/ 6 Days
For Monthly rent it starts from AED 7,000 – 8500 / Month or even more.
For further prices for rent a coaster in Dubai kindly Visit Dubai Bus Rental Rates
Features of 30 Seater Coaster
CAPACITY : 30 SEATS (22 Basic + 7 Folding + 1 Driver)

Ideal For : 22 -30 Passengers
Features :
Air-Conditioned, Excellent condition.
Areas Of Working: Staff Transportation, Rent a coaster in Dubai, Hotel Transportation, School staff Transportation , Site workers .
Mode Of Hiring :  With Driver, fuel, Salik, maintenance, replacement bus and driver . All inclusive …. No hidden charges.
Leasing  Time   :  Daily , Weekly , Monthly & Annually
Contact : mukhtar at swattransport.ae